The trip to Germany and the Netherlands left on April 2 and returned April 16.  Check out the brochure to see what our group of travelers got to do! 

What fun we had!   Here's a little video of everyone dancing in three countries at the same time!  Thanks Linda for capturing that moment!
Highlights of the trip will be:
 
Tomball's sister city Telgte and neighboring city of Münster.
The Köln Dom (Cologne Cathedral)
The day trip to Bastogne and Luxembourg for a guided tour of battlefields and memorials from WWII. 
A guided tour of the Cathedral and treasury in Aachen where Charlemagne's Tomb resides.
The Delta Works - keeping the waters out of The Netherlands.
Muiderslot Castle - a medieval toll booth / fortress nestled along the Zuider Zee.
A day of memories growing up in The Netherlands during the war with Wim.
Gouda Cheese Market...did someone say cheese??
Keukenhof - World famous Tulip and flower gardens.
A day in Amsterdam with time to choose museums, shopping, or both.
This tour is 13 days long, will have 12 meals included, will have live music, will have lots of little extras, and will be tons of fun.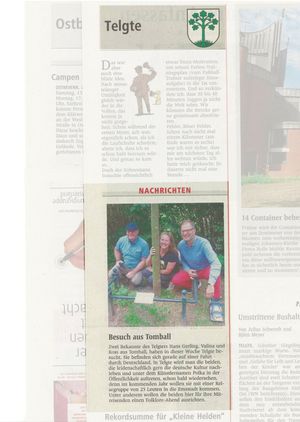 Like Oma creating her perfect holiday meal from scratch, great care is taken when choosing the activities, adventures and flavors of your vacation.  Not only is there a lot of fun, but  plenty of time to relax and truly enjoy your time away from home.  You'll be able to spend quality time with your loved ones and new friends instead of constantly packing and moving.  Traveling with Lustig Tours, you'll have a wonderful and unforgettable vacation!

Pricing starts at $5200* per person based on double occupancy.  Airline fares, fuel costs, hotel, excursion prices and exchange rates can effect the final price.  Single occupancy starts at $5700.

*If you choose to arrange your own flights, the price will be adjusted accordingly. 



Updated November 2017